FAQ's
Request For Water/Waste Water Analysis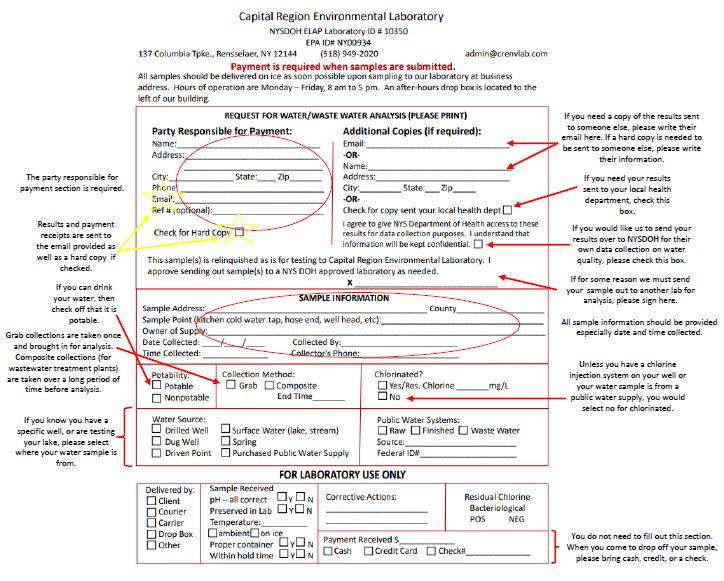 The New York State Department of Health is collaborating with Capital Region Environmental Lab to collect private well sampling results from volunteers. You can opt-in by checking the "share results" box on the chain of custody. By doing so, you'll be helping to improve our understanding of New York's water quality. There are no state requirements to change your well based on the sampling results. All results will be kept confidential. For more information on maintaining your well, please visit https://www.health.ny.gov/environmental/water/drinking/private_wells.htm.

What happened to the laboratory at 19 Warehouse Row and where can I bring my samples now?

The environmental laboratory at 19 Warehouse Row closed on October 1st, 2020. The employees from the old laboratory have opened a new laboratory called Capital Region Environmental Laboratory.

The laboratory is located at 137 Columbia Turnpike Rensselaer, NY 12144. The phone number is 518-949-2020. The website is crenvlab.com.

Emails can be sent to brian@crenvlab.com or erika@crenvlab.com.

How do I determine if my well water is safe for drinking?

A Total Coliform/E. coli test is one of the best ways to determine whether your water is safe for consumption.

The New York State Department of Health recommends that this test be performed annually on private wells. A group we refer to as the Routine Physical and Chemical Examination gives a more thorough overview of common contaminants in well water.

Additionally, Lead and Copper are recommended if the house was built prior to 1976 and the original pipes are still in place. Other health concerns are organic contaminants and heavy metals.

Feel free to contact the laboratory for more information.

What should I test for if I am planning on selling my house/buying a house?

What should I test for if I live near a farm?

At a minimum, it would be suggested to test for arsenic and nitrate as these are common contaminants found in drinking water in farming areas.

A Routine Physical and Chemical Examination gives a broader overview of the water including many common contaminants. Synthetic organic contaminant (herbicide and pesticide) testing may also be suggested.

Feel free to contact the laboratory for more information.

What should I test for if I live near a landfill?

We would suggest that you contact the local health department to find out common contaminants in your area. A thorough analysis may be recommended including Routine Physical and Chemical Examinations, Volatile Organic Contaminants, and heavy metals.

What should I test if I have municipal water?

A Lead and Copper test is recommended if the house was built prior to 1976 and the original pipes are still in place.

Additional testing can be done if there is an unusual smell or discoloration of the water. For other contaminants, an annual report can be requested from your water provider.

How often should I test my well water?

How long before I receive results?

Total coliform/E. coli results should be available the next business day. Most other testing will take about 5-10 business days for results. Certain specialty tests may take longer to receive results.

While we do offer expedited services at an additional cost, the above time frames should be referenced for most samples.

What should I do if my total coliform test is positive?

If you have not yet done so, discontinue using the water for drinking, preparing food or making ice, and use bottled water instead.

The well should be inspected for any damage or normal wear and tear that could allow contamination. If no damage is present or after repairs are done, the well can be disinfected to eliminate the bacterial contamination.

Water should be retested and shown to be free of total coliform before consumption. If continued testing is also positive, treatments systems such as ultraviolet (UV) or chlorination should be considered.

How do I read my sample report?

As always, we are available by email or phone, but see the image below to assist with initial interpretation of your results. A majority of the information on the pages is used internally for tracking your sample, so don't worry if it seems like a lot to take in. For additional assistance understanding your report, call the laboratory at (518)-949-2020 or email:

brian@crenvlab.com

or

erika@crenvlab.com

Why should I use Capital Region Environmental Lab for my water testing?

Call or email us anytime and you will understand that we take your water quality personally! We are happy to answer any of your questions or concerns and can offer suggestions, should you have water quality issues.

We have the experience and expertise you need. While the company may be new, the individuals employed at CREL have a combined 75 years of experience in the water testing industry.

All technical staff members of CREL were previously employed by St. Peter's Environmental Laboratory. Some of our staff members have been in the field for over 30 years.

Capital Region Environmental Laboratory is a New York State and EPA approved environmental laboratory. As such, the laboratory is audited biannually by the state department of health and held to very high standards. The equipment used is well maintained and highly sensitive. The methods used are EPA approved and historically produce very accurate results that you can count on.

E. coli & Total/Fecal Coliform FAQ's

Check the below FAQ's for topic-specific Questions/Answers
Please contact us for any questions you may have and we will return your request within 24 hours. Alternatively, you may call us at 518-365-5812
Moving into the future we will be offering services and online tools to further facilitate working together! We are integrating seamless online ordering and sample tracking, with a results portal for online viewing. We will continue offering our previous testing suite, along with personalized customer interactions, but removing all the process friction which will speed time for getting results to you and your customers.