E. Coli FAQ's
Request For Water/Waste Water Analysis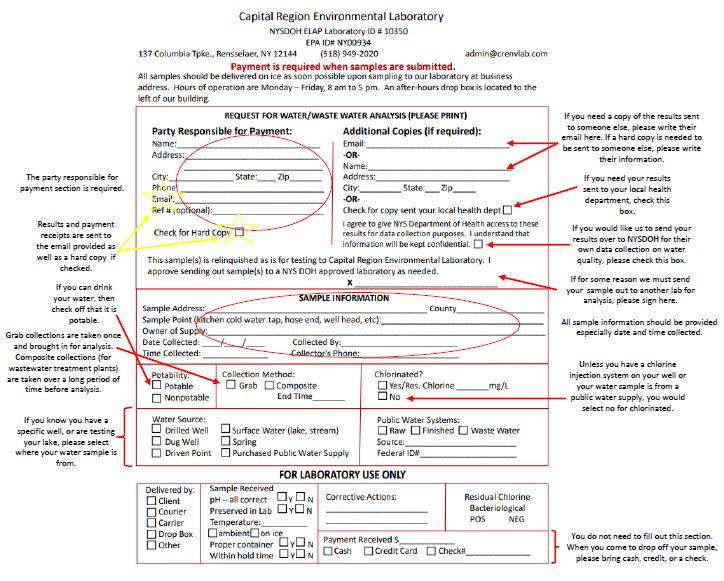 The New York State Department of Health is collaborating with Capital Region Environmental Lab to collect private well sampling results from volunteers. You can opt-in by checking the "share results" box on the chain of custody. By doing so, you'll be helping to improve our understanding of New York's water quality. There are no state requirements to change your well based on the sampling results. All results will be kept confidential. For more information on maintaining your well, please visit https://www.health.ny.gov/environmental/water/drinking/private_wells.htm.

Escherichia Coli is a coliform bacteria commonly found in the intestines of warm-blooded animals. Certain strains of E. Coli cause sickness in humans. E. Coli in water can also be a good indicator of fecal matter and other disease-causing bacteria in water. E. Coli counts are done for irrigation water samples. Regular drinking water E. Coli tests are included as part of total coliform testing.

Why should I test for E. Coli?

E. Coli can cause sickness if consumed and is a good indicator of a contaminated water source. If water is positive for E. Coli it is considered unsafe to drink. E. Coli counts are done for irrigation samples. Regular drinking water E. Coli tests are included as part of total coliform testing.

How can I tell if there is E. Coli in my water?

There are no physical indicators for E. Coli in water. If those in your household are regularly afflicted with stomach and/or intestinal issues you may want to consider having your water tested.

How often should I test for E. Coli?

Following NYS Department of Health guidelines, E. coli testing in drinking water should be done annually as part of total coliform analyses. E. coli counts are generally performed on irrigation water for agricultural use and for testing lakes, ponds, and streams for swimming standards.

Does my area have a problem with E. Coli?

Additional information regarding E. coli may be obtained by contacting your local Department of Health

I am a new home owner. Should I test for E. Coli?

Part of the loan process for buying a home usually includes having the water tested for total coliform and E. coli. If not, water testing would be suggested. 

What do my results for E. Coli mean?

If your total coliform test is positive for total coliform and E. coli, the water should not be used for drinking water unless boiled well. Corrective actions to the well and/or chlorination of the system should be undertaken. Treatment systems such as ultraviolet (UV) or chlorination can also be considered. Quantitative E. coli results for irrigation and swimming should be compared to standards.

E. coli & Total/Fecal Coliform FAQ's

Check the below FAQ's for topic-specific Questions/Answers
Please contact us for any questions you may have and we will return your request within 24 hours. Alternatively, you may call us at 518-365-5812
Moving into the future we will be offering services and online tools to further facilitate working together! We are integrating seamless online ordering and sample tracking, with a results portal for online viewing. We will continue offering our previous testing suite, along with personalized customer interactions, but removing all the process friction which will speed time for getting results to you and your customers.