Fecal Coliform FAQ's
Request For Water/Waste Water Analysis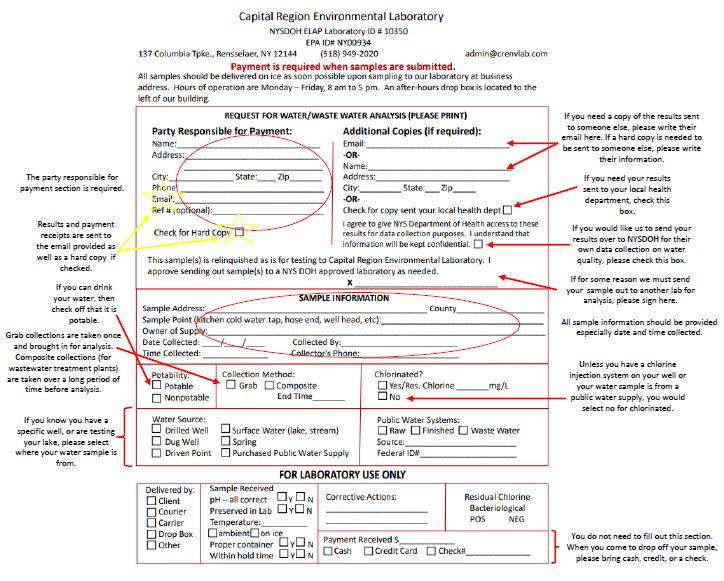 The New York State Department of Health is collaborating with Capital Region Environmental Lab to collect private well sampling results from volunteers. You can opt-in by checking the "share results" box on the chain of custody. By doing so, you'll be helping to improve our understanding of New York's water quality. There are no state requirements to change your well based on the sampling results. All results will be kept confidential. For more information on maintaining your well, please visit https://www.health.ny.gov/environmental/water/drinking/private_wells.htm.

Fecal coliform is the coliform bacteria related to fecal matter in water. It is used as a swimming standard for lakes and ponds. 

Why should I test for fecal coliform?

Fecal coliform testing is generally done for swimming standards, as the presence of bacteria found from animal scat can cause infection.

How often should I test for fecal coliform?

For swimming standards, fecal coliform should be tested at the start of or during the swimming season.

What do my results for fecal coliform mean?

General guidelines for swimming standards indicate that fecal coliform results less than 200 MPN/100mL are acceptable. Additional information regarding acceptable swimming standards can be found by contacting your local Department of Health.

E. coli & Total/Fecal Coliform FAQ's

Check the below FAQ's for topic-specific Questions/Answers
Please contact us for any questions you may have and we will return your request within 24 hours. Alternatively, you may call us at 518-365-5812
Moving into the future we will be offering services and online tools to further facilitate working together! We are integrating seamless online ordering and sample tracking, with a results portal for online viewing. We will continue offering our previous testing suite, along with personalized customer interactions, but removing all the process friction which will speed time for getting results to you and your customers.